April in Review

The most up-to-date analysis of home values, market trends, and seller/ buyer behavior across the East Bay's residential real estate market.


Spring is here - the blooms are out and so are buyers looking for well presented, beautiful homes. Rates have stabilized adding to buyer confidence in some neighborhoods - especially those averaging higher price points. As a result, home values are increasing in 2023.


Sales volume reached an average of 42% below this same time last year. With an increase of buyer attention and such low inventory, homes that are listed, prepped, and staged are garnering multiple offers - some selling well over the list price suggesting a strong seller's market. Compared to last month, home values have increased 7% with the largest increases in Lafayette, Berkeley, and Piedmont.


So why are so many homes sitting available beyond 1 or 2 weeks? Although pricing is a common denominator, tired homes, those with deferred maintenance or needing significant work, or poorly configured, are more likely to struggle. Despite the prevalence of sitting inventory, the average home sold 14% faster compared to a month ago - the factors contributing are warmer weather, gardens looking better, and tight supply.


The drop in home prices compared to a year ago (6%) has motivated some buyers, but the drop hasn't equalized increased mortgage rates. Buying a home today is simply more expensive than it was a year ago. Even still, with discounted values and a chance to refinance for a lower mortgage rate within a few years, many buyers are realizing an opportunity - one that has been long in the waiting.


Navigating this market requires a more calculated approach - there is opportunity for sellers and buyers alike. Please reach out to chat with your observations or questions.


- Alex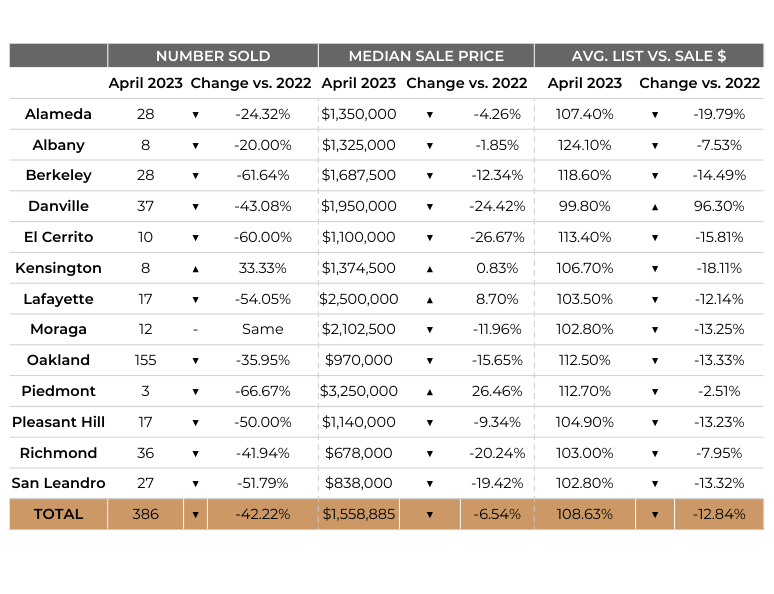 April 2023 Full Market Report: East Bay Area
Covering 26 cities across Alameda and Contra Costa counties, my market report offers an in-depth view of market changes for single-family homes, condos, and townhouses.
SHARE THIS STORY